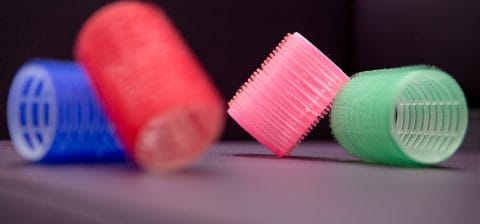 Services
Keratin Blowdry Treatment
Kerasilk
FROM FRUSTRATING TO FABULOUS HAIR. DISCOVER THE ULTIMATE TRANSFORMATION. KERASILK KERATIN TREATMENT IS THE FIRST CUSTOMISABLE LONG-LASTING SMOOTHING SERVICE FOR HAIR LIKE SILK FOR UP TO 5 MONTHS
BENEFITS:
FROM FRUSTRATING TO FABULOUS HAIR. DISCOVER THE ULTIMATE TRANSFORMATION FROM A FRUSTRATING PROBLEM TO A FABULOUS SOLUTION:
Over 50%* of all salon clients have unmanageable hair.
Over 60%* of all salon clients suffer from frizzy hair.
*qualitative market research 2011 in Germany and USA
KERASILK offers the first customisable KERATIN TREATMENT service with 100% perfect results:
makes unruly, frizzy hair manageable
softens waves and smooths the overall hair structure
reduces the clients' daily styling time significantly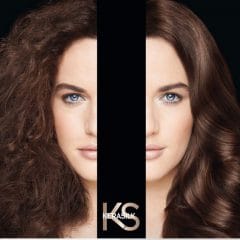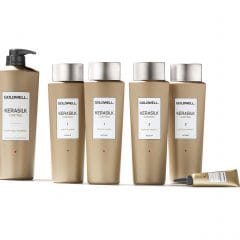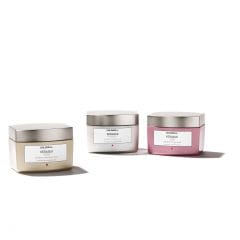 Keraslik De Frizz Treatment
Long-lasting transformation into smooth and perfectly frizz-controlled hair for up to 4-6 weeks. The new in-salon Keratin De-Frizz Service controls frizz and beautifies the hair's natural shape.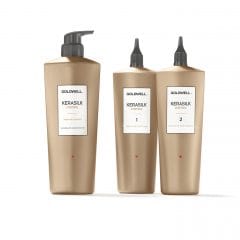 Hair Rituals
Kerasilk Care Treatments
DEEP SMOOTHING MASK
Transforms extremely unmanageable and damaged hair into perfectly smooth-down and controlled hair.
Replenishes disparities within the hair and seals the cuticle for long-lasting manageability and luxuriously soft hair like silk.
With the highest concentration* of precious keratin and silk proteins.
Supports the Keratin Treatment effect at home.
*within the Kerasilk Keratin range.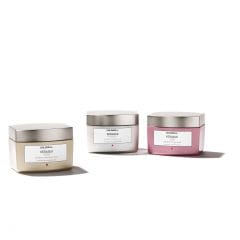 Olaplex
Our simple three-step process includes a patented active ingredient that works on a molecular level to seek out broken bonds in the hair that are caused by chemical, thermal, and mechanical damage. You can use Olaplex to restore compromised hair, or add it to another service to provide the ultimate breakage insurance.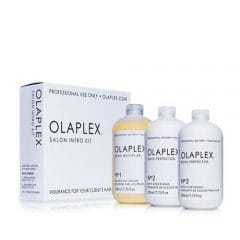 Kerasilk Scalp
REVITALIZE YOUR SCALP. BEAUTIFY YOUR HAIR.
Kerasilk is expanding its hair care range by introducing
Kerasilk Revitalize – a rejuvenating scalp-care routine inspired by skin care. It individually counteracts and protects against the key signs of scalp aging to reveal the most beautiful hair.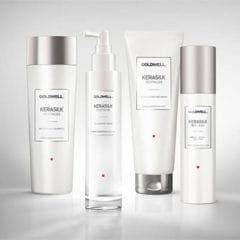 Colour
Colourance
THE HEALTHIER THE HAIR THE MORE BEAUTIFUL AND SHINY THE COLOR RESULT WILL BE.
Colorance is the first demi-permanent color with IntraLipid Technology that repairs the hair.
INTRALIPID TECHNOLOGY
+35% improved hair structure*
The repair innovation for a new color feeling
Perfect hair protection
Durable regeneration of the hair structure: lipid levels are effectively recharged.
*With IntraLipid
COLORANCE
Beautiful, glossy hair full of freshness and liveliness.
New expression for the existing natural tone
Refreshment of color-treated bases
Grey coverage of up to 50%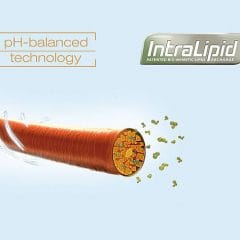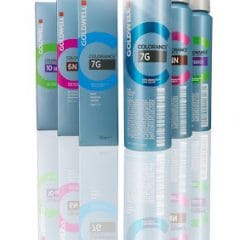 Elumen
HIGH PERFORMANCE HAIR COLOR OXIDANT-FREE
BENEFITS:
GOLDWELL ELUMEN IS A HAIR COLOR THAT ELUMINATES THE HAIR INTENSIVELY FROM INSIDE OUT TO ACHIEVE INTENSE,
PEERLESS RESULTS FOR COLOR PROFESSIONALS:
Intense and brilliant color results
Exceptional shine
Remarkable and incredible durability
Amazing, healthy looking hair
UP TO 76% MORE COLOR INTENSITY COMPARED TO OXIDATIVE PERMANENT HAIR
COLORS*
TECHNOLOGY:
ITS REMARKABLE TECHNOLOGY MAKES ELUMEN A PHYSICAL COLOR, WHICH MEANS THAT IT WORKS ENTIRELY WITHOUT OXIDIZING BUT STILL ACHIEVES SPECTACULAR AND LONG-LASTING COLOR RESULTS.
MAGNET EFFECT:
A coloring process that eclipses conventional technologies: the Elumen magnet-effect creates a new dimension of intensity and durability. Intensive Elumen pigments are physically drawn deep inside the hair where they are anchored securely to produce amazingly intensive and remarkably long-lasting color results.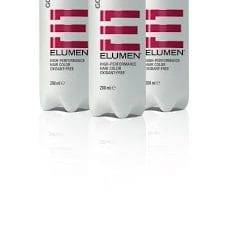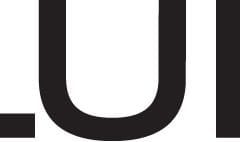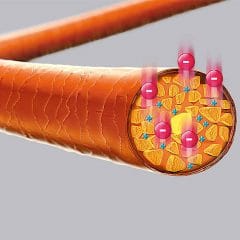 Men's Re-shade
THE MOST NATURAL-LOOKING WAY TO BLEND GREY.
For consistently natural, blended grey reduction with no visible regrowth.
HYBRID FOAM TECHNOLOGY
For a fresher, younger look anytime
Works in only 5 minutes
Natural look – no visible roots
Visually fuller hair
Uncomplicated service at the basin
TONE GUARD TECHNOLOGY
For a constantly cool tone direction
No unnatural colour tint when washing out, guaranteed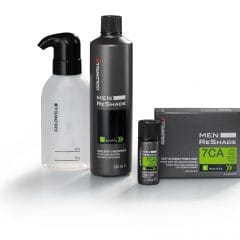 Tophic
PERFECT PERFORMANCE
TOPCHIC guarantees intense colors full of brilliance in all dimensions.
100 % grey coverage – Improved performance for complete variety: from classic N shades, cool NA shades, intense NN shades to premixed Elumenated Naturals. All guaranteed by the Dye Penetration- and Reflects³ System.
ULTIMATE DURABILITY – First cool assortment on the professional hair color market from Goldwell staying cool over time – guaranteed by the innovative CoolProtect Technology.
EXCELLENT EVENNESS – For beautiful, even color results from regrowth to ends. Guaranteed by the Equalizer System 2.0.
OPTIMUM GENTLENESS – 100 % performance with no compromise on gentleness – guaranteed by patented Coenzyme Technology & creamy-smooth lotion with IntraLipid.
TOPCHIC's segmentation is as easy and clear as ever – to provide distinctive beauty for individual client needs.
Integrated Protect System (IPS) – be convinced by the intelligent color system with the latest state of the art formula. Developed over 40 years experience in professional hair color artistry.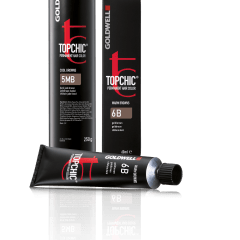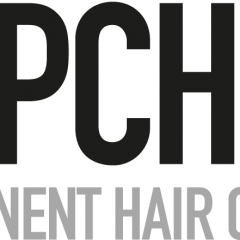 where to find us
Our Locations
We use cookies to provide the best experience.